Bathroom Steam Showers
When it comes to bathroom remodeling, homeowners are far more interested in expressing their individuality and sense of style than they are in following current bathroom design or decorating trends.
With a steam shower, experience the indulgent warmth of steam. Let your body relax and purify itself in the rich moisture. Relieve muscle tension and joint fatigue. Reduce stress and cleanse skin impurities. The safe, soothing comfort of a steam bath makes the rest of the world simply fade away.
---
Control Your Personal Experience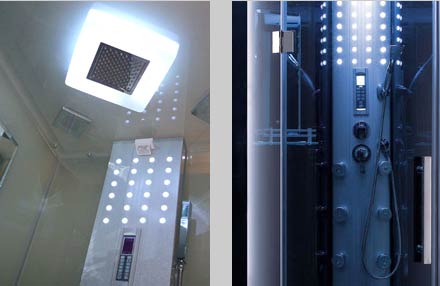 The easily adjustable control panel offers temperature selection (90 to 125 degrees) and sets the steam session duration, up to 60 minutes. Just relax and enjoy the indulgent warmth of steam.
Discover the spa collection from SteamShowers Inc. Click here to browse models of steam showers and spa rooms.
---
Health Benefits Of Steam Showers
One of the oldest healing remedies in the world, steam baths have been used for centuries to promote health and vitality. Hippocrates, the father of medicine, encouraged the practice saying "Give me the power to create a fever, and I shall cure any disease."
A steam shower can be added wherever you want it. It provides a much more versatile option than many conventional showers.
In one compact unit, the size of a typical shower, you can take a luxurious steam or whirlpool bath, enjoy a multi-head shower, and get a full-dimensional back massage. Steam shower units have a contemporary and elegant look, and come equipped with a radio and telephone, a remote control, and connections for your CD player.
Heat and steam helps to soothe and relax tense muscles.
You'll sleep better, work better & above all - you'll feel better.
People with arthritis or sore joints have enjoyed temporary relief from their discomfort.
A steambath or sauna will open the pores of your skin, helping to rid your body of toxins we are all exposed to every day.
Steam can help heal dry skin by enveloping it in moisture.
---
More Information On Steam Showers
WaSauna.com: Large selection of steam showers. Pick the right one for your new bathroom.
Steamist.co.uk: UK company manufacturing the Steamist steam bath.