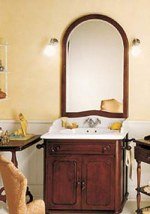 This bathroom vanity offers the perfect touch for Victorian and later period home designs. This model was crafted using wood reclaimed from European barns, boats or bridges and is paired with a china top.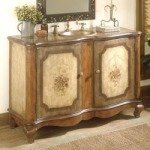 Woods used for Del Mondo pieces typically range from 200-300 years old. Countertops can be limestone, marble or china. Most of the bath vanity units are chemically treated to help prevent warping in normally moist bathroom conditions.
The Old Style vanities create a charming historic look with inset doors, wood knobs and wood latches. Most of them are hand made and have a unique look to perfectly match and underline your Old Style bathroom design.