Better budgeting for bathroom remodeling
---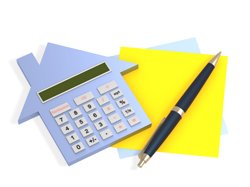 Few people live in a home and never undertake a single remodeling project. So, if you are planning to buy a home or currently own your home, remodeling will be a part of your life at some point. Few people live in a home and never undertake a single remodeling project. The remodeling process is one that you will remember for many years to come, whether good or bad, and a successful outcome is based almost entirely on your ability to budget for and plan your project.
Armed with a little background knowledge, education, and some reality based thinking thrown in, you can avoid unforeseen expenses that can amount to thousands of dollars. How to budget for a bathroom remodel is a subject that is rarely discussed, so Abathroomguide.com decided to explore the subject and provide you with useful information and some basic calculations to help navigate through the budgeting process. Hopefully, we can help you make your bathroom remodeling project a huge success.
---
What are the "hidden costs"?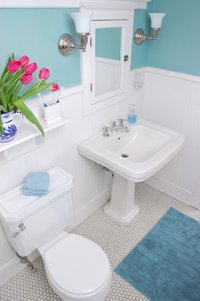 The first myth that we need to debunk as far as estimating your project's cost is the common misconception that you should only have to pay for the materials and labor dedicated to your project. While you might think that you should never have to pay for contractor mistakes or expenses that are not directly related to your project, unfortunately you are going to have to adjust your thinking.
Contractors have to pay for marketing, secretaries, licenses, insurance, gas, truck maintenance, lawyers, printing and employee mistakes among other things, and that is just the tip of the iceburg! In a perfect world, you would only pay for materials, labor, and the gas to get from the job to the shop. But, on the flipside of the coin, in a contractor's perfect world, the contractor would never have to pay for marketing, would never be sued, vehicles would never break down, employees would never make mistakes, and there would be no costs associated with the remodel except for the materials and labor. But, just like any other business venture, contractors have to make enough money to cover overhead and still make a profit
---
How the "hidden costs" affect you
As we dig a little deeper, let's take a look at how contractors factor the "hidden cost" into your project estimate. Contractors typically mark up materials about 10-20% on every job. It helps to cover those days when an employee slips off a floor joist and falls through the ceiling below. It may seem like an unfair practice that someone else's mistake is costing you money, but the truth is that it is just a cost of doing business.
Quick Tip: Any materials that you can buy yourself, especially at a discount, will help bring down the cost on the total price tag.
---
Formula
So, now that we are somewhat more grounded, let's crunch some numbers and get a realistic estimate of a bathroom remodel. To that end, we have created a Material Cost & Labor equation and will walk you though some "average" costs associated with a remodeling project.
Labor: A quality remodeling company with an average attention to detail will be able to completely remodel a bathroom in two weeks with three men working about fifty hours a week. The average construction worker earns approximately $20 an hour. This average is based on salaries of the foreman ($25-$30), the laborer ($15-$20), and the helpers ($7-$10) in the Atlantic northeast region.
Materials: For a quality bathroom, the materials cost about $4,000. That includes replacing the subfloor, the plumbing, the drywall, as well including ceramic tile floors and walls with accent tile, and finishing touches like nice solid brass hardware, and a standard pedestal sink and toilet combo. These are materials you do not want to "cheap out" on because those of you who will try and save a couple bucks by buying lower quality materials will end up with leaks and cracks and will eventually have to buy the quality material the second time around (more on this subject later). Of course, it goes without saying that if you have champagne taste, you'll need to include some extra cash in your materials budget for things like a double vanity or a towel rack to warm your towels.
---
Breaking it down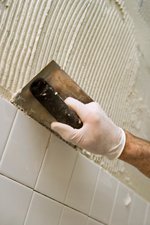 $20 per hour X 3 employees = $60 total per hour
40 hours regular time a week X 2 weeks = 80 man hours
Total regular labor: $4,800
$60 an hour X 1.5 (for over time) = $90 an hour
10 hours of overtime per week X 2 weeks = 20 Hours
Total overtime labor: $1,800
Total regular labor + total overtime labor = Total Labor Cost per bathroom: $6,600
$6,600 Total Labor + $4,000 Material Costs =
$10,600 Total Cost
That calculation does not include back-end expenses, marketing costs, profit, or anything else not related to the job at hand, so you can see why the average cost of a bathroom remodeling project in the United States is $16,142 according to Remodeling Magazines 2010 Cost vs. Value report.
---
What does this means to you
This simple question is really easy to answer. It gives you a starting place – a baseline to work from. If you have a contractor that says he can come in and build you a quality bathroom for $8,000, be very careful! You don't want someone who will do a substandard job and charge less because it will ultimately require that you redo your remodel at full price later on. So please, do your homework, get referrals from people you trust, and hire only reputable contractors.
This article was written by Steven Moore, the marketing director of the Maryland bathroom remodeling company, Budget Bath