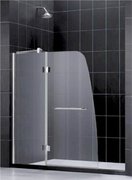 The shower door market has really started to explode over the last decade. While previous generations were content with a door that simply kept the water from escaping, the modern consumer is more interested in creating a look and feel for their bathroom in which the shower door is one of the defining pieces of style.
Enter brands such as Dreamline that are taking this need for style and using it to craft a door that is both elegant and unique. Dreamline aqua shower doors are just that.
Frame
One of the first things you notice with this shower door is the unique frameless style that doesn't fit into the traditional square look of normal shower doors. You may think that this would lead the water to escape more easily, but with the design of the door and the placement of the showerhead keeps all of the water in the shower pan without spilling out of the area. That being said you want to make sure that you have a shower pan that is inset so that it has a trough for the water to collect in and be funneled down into the drain.
Glass
This door comes in both clear and frosted glass options that have been tempered ¼". This glass is designed to be easy to clean and look beautiful in whatever application it is used for. The door itself also has an anodized aluminum that comes in many different finishes to match the style of the bathroom fixtures in which it is being installed. Popular options for this are brushed nickel and polished chrome.
A con with this door is that it is built for a specific size bathroom and will not work in many smaller bathrooms. In order for the water to stay in the pan the shower area needs to be larger and the showerhead needs to be mounted on the side of the shower and not from the top down. Many users like the feel of the rain drop shower head so if that has been installed then this door will not work. Also the style may be a little too modern for some users, but that depends completely on your personal style.
That being said this is a really great shower door from a great up and coming brand. If you are going for the modern look, it would be a great investment.
Pros: Modern, sleek, multiple size and glass options
Cons: Not built for small bathrooms