Body spas and multiple showerheads
multi jet showers create a more sophisticated, relaxing shower experience body spas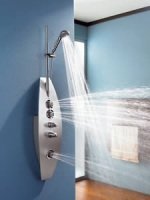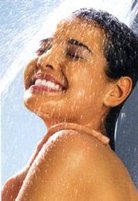 When it comes to feeling refreshed and invigorated, nothing helps you achieve that state of renewed vitality quite like a powerful and sophisticated shower.
The idea is simple and the engineering innovative: take a series of whirlpool jets and arrange them vertically in a shower-like enclosure. Then instead of pushing water through water - as in a whirlpool - propel it through the air, so it's just the user and the force of the bodyjets.
Personalized hydro-massage experience
An electronic touch pad placed within easy reach allows the user to adjust the intensity and direction of the water flow for just the right degree of massage action.
---
Body Spa Ambiance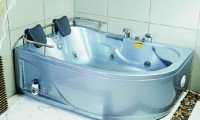 BodySpa systems are engineered for the ultimate in comfort. Seats, jets, headrests, footrests and lumbar supports are placed exactly where they need to be. An integral heater is standard on all BodySpa systems and helps maintain the original water temperature for the duration of the hydro massage experience.
---
Bathroom Upgrades or Retrofits
The Aquatower shower system brings the luxury and convenience of a multi-head shower to almost any shower enclosure.
Aquatower enhances the functionality and value of a bathroom with minimal effort and without renovation headaches. Installation of the GROHE Aquatower requires little more than connecting the unit to the hot and cold water supplies and attaching it to the shower wall using two screw-in anchor points.
Prices depend on the features, sophistication level and customization of the multi-jet shower system and its components.
Many systems are affordable, such as all-in-one shower panels that can be easily retrofitted to an existing shower (Grohe FreeHander dual shower head, $400 or Grohe Aquatower system, $1,600 to $1,800). Others, however, require more intensive, expensive installation by a professional (Customized systems require separate valves and piping for each jet and shower head – costs that can add up quickly).