New Bathroom Design Elements - LED Tiles from Steuler Fliesen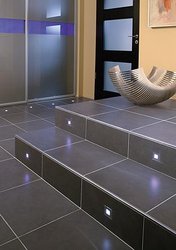 As you embark on your next tile project, consider the addition of LED tiles with straight luminous glass borders to illuminate a back splash, for indirect lighting or to create a luxurious ambience.
Steuler Fliesen has created an innovative line of LED tiles designed for imbedding on floors, walls or ceilings. Available in blue, yellow or white, the stylish LEDs come in solid colors or slowly alternating colors for a soothing relaxed feel.
If you are among those who have to make a bathroom trip in the middle of the night without waking your spouse, Steuler Fliesen has the solution; single LED lights, to guide your way. Single LED lights are imbedded into strategically placed tiles on the floor or steps to illuminate your path.