How can I create a traditional bathroom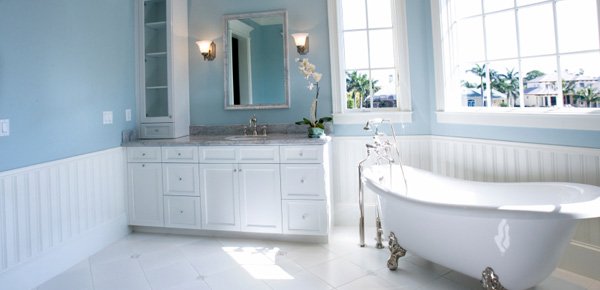 When people think of a traditional styled bathroom, they often think about a bathroom decorated in classic Victorian style. While this is not incorrect, there is a design element that is much more indicative of a traditional bathroom style - the bathtub. The tub is supposed to be the focal point in a traditional bathroom. A free-standing bathtub should be the first choice in staying true to the traditional style bathroom; however, if it isn't an option for your space, then try something built in.
Lastly, it's important that the room is well lit. Natural light would be the best option, but is not always feasible. So, just make sure that the area is well lit with either a chandelier or some other interesting, but traditional light source.
---
What makes this good example of a traditional bathroom?
An obvious traditional element in this photo is the claw foot tub, but then there is also a lot of natural lighting. Two rather large windows allow an enormous amount of light to stream into the bathroom making the room bright. And, the two lighting fixtures flanking the mirror have an antique feel. The usual white color palette helps fill this bathroom with lightness, and yet it stays within the design parameters of what most people have come to think of as a traditional bathroom.
---
What makes this a good example of a traditional bathroom?
First off, this bathroom does not have the typical claw foot tub, but instead it has a large wooden lined tub in the corner. Despite that, the tub is still the focal point of the room, so it works. A considerable amount of wood is used (especially the wood flooring), which tends towards the traditional, while the lights chosen are equally traditional in style. Don't forget the two windows facing the bath! They help illuminate this room in keeping with a traditional bathroom style.