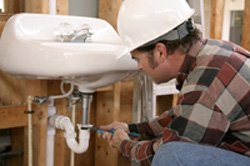 Once you have decided that it is not feasible to remodel your own bathroom, you'll need to hire a suitable contractor for the job. Your choice of contractor will define whether or not you will have a successful bathroom remodel, or a mangled mess that will require a do-over by someone truly qualified to do the work. We've all heard horror stories from our family, friends, and neighbors who have had less than successful remodels. What they don't tell you is that more often than not, they probably could have done a little more homework up front and avoided the "bathroom remodel turned nightmare." That being said, the process of choosing your contractor can be time consuming but well worth it in the end and should be taken seriously.
What tends to make the process so difficult is that you can't look at a finished bathroom remodel just like the one you want to help you decide if you have the right contractor for the job. Just like in any industry, a skillful sales person can make even the worst remodeling company seem like the perfect fit. So, how can you unveil the true quality of a contractor? What work do you need to do before hiring, and what tools can you use to ensure that your bathroom remodel will not be one of those horror stories you've heard about?
Let's walk through the entire sales process from the decision to purchase a bathroom remodel to the actual hiring of a contractor, and outline specific steps to success.
---
Finding a contractor for your remodel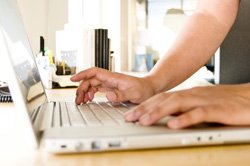 Once you have made the decision that you want to purchase a bathroom remodeling job, you need to find a contractor. The phone book is dead, so do not use it. It provides no information on the individuals in the book, so don't even open it up. Search engines, on the other hand, have advanced methods of ranking websites, so use Google, Yahoo, or Bing to find a remodeling contractor in your area by typing "[your area] bathroom remodeling company" and click on the first three sites that represent the style and workmanship that you are searching for. Review each site to see if it is a well designed, easy to navigate, and aesthetically pleasing. A well designed website is an indication that the contractor takes pride in his work and will likely take pride in the remodel. An outdated website does not necessarily mean that the contractor doesn't care, but it is something to take into consideration. Some contractors may not even have websites. A website is really just one more way to evaluate whether the company is legitimate and therefore one more step in the direction of success. Of course, it goes without saying that friends and family may be able to give you a referral, and in that case, you improve your chances of success immeasurably.
---
Testing the waters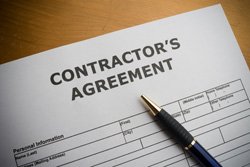 Once you have narrowed down your search, begin making inquiries with these contractors. Evaluate their responses closely. If you call by phone, make sure the receptionist is courteous and polite – this speaks volumes about the service that you are likely to receive from the company. If you inquire by email, look for a response in about two business days at most. If you haven't heard back by the third day, call someone else. You want to hire a contractor who respects your time and is interested in calling you back and giving you an estimate. That is not to say that if you decide to hire the contractor, they should start work next week. If they are able to begin work so quickly, that might raise a red flag and be some cause for concern. Though, you have to balance that with the state of the economy as well. Typically, however, contractors who do excellent work are always on-demand. You should expect the work to start within a month of signing your contract.
---
The sales call - what to look for
During the sales call, there are some crucial things that you will want to take note of. Of course, arriving for the appointment on time and dressed for the occasion are the obvious ones. Work pants and a t-shirt are appropriate for doing the work, but when you are negotiating a $15,000 bathroom remodeling job, you should expect attire that is professional. Expect that the contractor will be professional in all ways, and you can expect a good job.
When the contractor is making his sales presentation, ask about other bathroom remodels he had completed that are similar to yours. Ask to see photos and for a list of testimonials and referrals. You'll need phone numbers, too. You will actually have to call at least 3 of the references. Speaking with other clients who have worked with the contractor will give you invaluable information about the quality of the workmanship and the contractor's ability to do the job he says he can do.
---
Price comparison shopping
The last piece of work you need to do to ensure the success of your bathroom remodeling project is making the price comparison. You want to make sure the price quoted for the project is fair and reasonable and fits the work. Check Remodeling Magazine's "Cost vs. Value" report to determine the general cost of a bathroom remodeling project in your geographic location and compare it with the estimates that you have received from the contractors you have consulted. For example, if your contractor was going to install a radiant floor heating system under tile in your bathroom remodel and gives you a quote for $500, you may want to check out the "Quick Estimate" tool on the WarmlyYours website to get an instant price quotation for your radiant heating project materials. Of course, you'll have to factor in the contractor's cost of labor when you compare his quote to your WarmlyYours estimate. Again, your goal is to make sure the quote given to you by the contractor fits the work.
To conclude, do your research and make sure the company you choose is professional. Then, enjoy the fruit of your labor.
This article was written by Steven Moore, the marketing director of the Maryland bathroom remodeling company, Budget Bath.