Finally! The summer is here and with your tax return in hand, are you thinking about remodeling your bathroom? There are so many design options available, so how do you even get started?
Choosing a bathroom theme
A great starting place for your project is to choose a decorating theme. You could consider general themes like lavishly luxurious or minimalistic modern... Or, you could consider a more specific style like Beach/Nautical. Beach themes can be created with accent colors found in beach apparel as well as with natural color schemes found in the sand, sun, and the sea. Cool blues, vibrant yellows, and neutral tans compliment each other well, and a mural of a seaside landscape adorning the wall can definitely set the tone. Now, a warning to the wise... By choosing a beach theme, you can easily cross the line from trendy to tacky. So, keep that in mind. The key is in not going overboard, but making a room FEEL like the beach, without BEING the beach.
---
Colors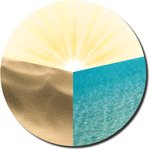 Let's talk specifics about color. As seen in the colorful wheel below, the beach color palette works beautifully together. Different shades of tan, blue, and yellow all work synchronously to deliver a bathroom that feels more like the French Riviera than a 5'x 8' room for the commode. For example, a white ceiling, pale blue or whale grey walls, and weathered tan wainscoting, with a sandy colored tumbled marble floor is a great start. That will give you a good base to work from when layering the rest of your color palette. Of course, you can be much bolder if you want, and we will explore some examples of this when we discuss tile.
---
Fixtures
The fixtures and furniture that go into a beach style bathroom are important, especially when it comes to authentically portraying the beach feel. "Weathered" or "Distressed" vanities look very attractive in a beach bathroom. If you have ever been to the beach, you've likely seen driftwood and perhaps even collected it as a souvenir of your trip. The look of driftwood really captures the design element of "distressed".
When you are considering faucets or other bathroom hardware, there are a couple different finishes to choose from that really fit well within the beach bathroom theme. Brushed nickel is a classic finish and looks mildly distressed, almost like you took a wire brush to a chrome faucet.Another finish that you may want to consider is oil rubbed bronze. This is an antique looking finish that would blend well in any beach themed bathroom.
Note: Standard white toilets and bathtubs are a great compliment to any beach décor. Changing out your white toilet seat with a distressed wooden toilet seat that matches your vanity is an addition worth considering.
---
Tile
Tile is the perfect backdrop for your beach theme – it's one of the most important and noticeable features in your bathroom and is an essential element to creating your beach bathroom. Your tile choice really sets the tone for the entire room. This is a great opportunity to differentiate your design from other bathrooms. There are two schools of thought to consider when choosing the tile for your beach bathroom.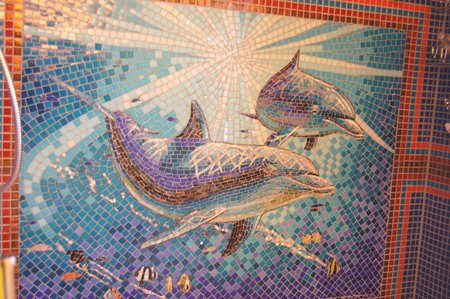 #1: Use a mild sand colored stone on the walls and floor to make it feel like the beach. This creates an elegant feel and a warm atmosphere. Adding floor heating under your tile flooring to bring in the actual element of radiant warmth can really take your beach bathroom to another level. You might even imagine you are walking on the beach!
#2: Use bolder colors on the walls and a sand colored tile on the floor. You could get even get wildly creative and make a dolphin mosaic! (see on the right) A beach themed mosaic is truly for the beach lover. This is that fine line I was speaking of earlier between tacky and tasteful.
---
Accessories
The final step of this bathroom design is the addition of accessories. In most department stores, you can find matching ensembles that include toothbrush holders, soap dishes, towels, mirrors, and even art work. More often than not, the matching accessories look great on the store shelf, but may be a bit overwhelming when you get them home. Adding subtle coordinating accents, like a sandstone toothbrush holder, cream colored towels, an actual seashell that can be used as a soap dish, or a painting that you picked up from your local salvation army are the finishing touches that really help create your beach design.
I hope these tips have helped you in your journey to bring the beach indoors so that you can enjoy it all year around
This article was written by Steven Moore, the marketing director of the Maryland bathroom remodeling company, Budget Bath.