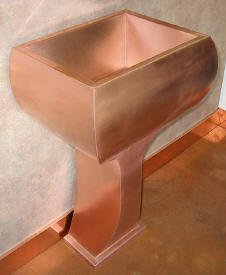 Copper sinks are the opposite of what you might expect. Believe it or not, they are almost maintenance free. If you like the coloration, you are in luck. Copper sinks will age to a medium coppery brown, and will not turn green as many might expect. Put away the cleaner, you will not need it.
Copper is more sanitary than any other sink product. In fact, it is a natural antibacterial product. Bacteria will not live on copper. Research has shown that bacteria can live for days on stainless steel and only hours on copper. There is much rethinking going on with regard to restaurant sanitation and stainless steel verses copper.
Another virtue is the fact that it will constantly change in appearance. It seems the older it gets, the more attractive it looks. It is a living finish, which adds excitement to any home décor. If you prefer the new copper finish a product called Wrights Copper Cream is a wonderful cleaner. It will bring the sink back to the original "new penny" shine.
Last, but not least, ask questions when looking at these bathroom sinks. All copper is not alike! Much of the imported copper from India and Mexico is made from recycling. That might sound like a great thing until one realizes they are melting down old computers, machines, and television equipment to capture the valuable copper. Recycled copper is generally only about 90% pure. The 10% is unknown material. There is lead and or mercury in many products that are melted down to make the recycled copper. If you are uncertain, ask before investing.
If you are interested in copper sinks, visit LuxuryHomeProducts.com.