Although toilets are one of the plumbing fixtures that you never think about until they stop working, there have been many improvement during the last decade that save waterflow, provide comfort, and enhance the reliability of this bathroom staple. The toilet we will be reviewing today is the American Standard Cadet 3 toilet and it is one of the most well-known toilets on the market.
This toilet has been one of recent standouts in the toilet industry due largely to the huge jumps in efficiency this toilet has been able to provide. If you haven't seen the video with this toilet sucking down everything from golf balls and hot dogs to cell phones you should check it out below.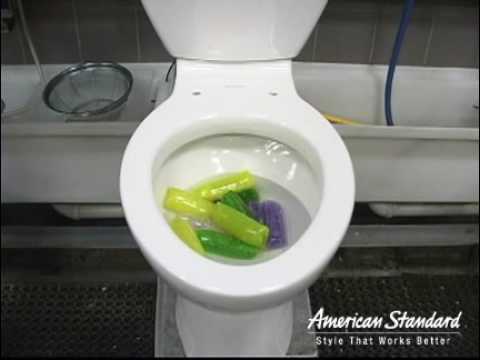 As you can see from this video, the Cadet 3 toilet can pretty much take everything that is thrown at it. What is even better is that this toilet does it while still remaining Watersense certified (meaning the toilet uses significantly less water). The Watersense certification is a big deal, as many of the toilets installed in today's home are wasting thousands of gallons of water a year through simply being inefficient. The American Standard Cadet 3 helps you rectify that by providing a toilet that is extremely efficient for waste removal and the environment.
Another great feature for this toilet is the EverClean surface. American Standard prides itself in creating a surface that helps keep the product clean longer, while protecting it from algae other bacteria. This surface is evident on the toilet through its mirrored finish that is easy to maintain for the life of the toilet. We all know that cleaning a toilet is never a fun job, so having the EverClean surface is another plus for the Cadet 3.
This toilet also comes with a speed connect system that makes the connection from the tank to the bowl a whole lot easier for the average home owner. Meaning with even a limited knowledge of plumbing you should be able to get this toilet installed in your home. The tank features a flat lid which is essential for holding toiletries, and the trip lever itself comes in a chrome finish but other finishes can be purchased to match the bathroom it is being installed in.
The con for many people is that the seat does not come with the toilet, and you have to purchase it separately. This is not a huge con but it does provide an annoyance if you order online and did not realize you needed the seat. Not having a seat allows you to opt for the nicer slow close toilet seat from American Standard if you are interested in it. This toilet is in the medium price range coming it at around 220 to 270 dollars, but for that price it is a bargain. If you have an old inefficient toilet, step up to the American Standard Cadet 3, it will have you wondering why you didn't make the change earlier. If you are serious about helping the environment while also helping your wallet, make sure you consider this toilet.
Pros: Water saving, few clogs, speed connect
Cons: Seat is sold separate, only chrome trip lever others extra.