The Bathroom "Bells And Whistles"
Lighting - The WaterTile® Ambient Rain® shower panel adds a dynamic, moving, and changing visual dimension to your shower. You can even utilize color sequences in natural themes like sunrise, sunset, sunny clouds, and water reflection. Talk about a motivating experience for the early morning!
Music - A simple connection from your PC or Mac can take singing in the shower to a whole new level. Upload and cue music selections from your computer or MP3 player to relax or invigorate, depending on your mood.
Shower - Personalize your water temperature to the precise degree that you desire. You can also choose water delivery options from up to eight shower components with the touch of a button. DTV's sleek design and leading-edge technology provides a spa-like environment at your fingertips.
Steam - There's nothing more rejuvenating than a soothing blanket of steam— especially in the comfort and privacy of your own shower. Preset your preferred steam temperature and duration for an experience that is uniquely yours.
Floor Heating - A very advanced system indeed which lets you extend the luxury of your shower experience… Think about stepping out of a nice, warm shower only to be jolted as soon as your feet touch the freezing cold tile floor. A floor heating system delivers radiant warmth that envelops your body and makes your floors feel like heaven. The floor heating system can be installed under any type of flooring, from hardwood, to tile, and even carpet! In addition to the heated floors, why not add a towel warmer that makes your towel feel like it just came out of the dryer? Now, that's luxury.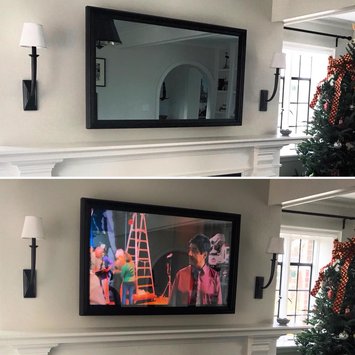 Two-Way TV Mirror - The last feature in our aspirational "tricked out" luxury bathroom is the two-way mirror TV. What an amazingly simple piece of technology! Basically, you can take any plasma screen or LCD TV and recess it into your wall, or house it in a built out cabinet. Then simply place a framed two-way mirror in front of it. The mirror acts as a protective barrier between the water and your TV.
This means that when the TV is turned off, it is just an ordinary mirror, but when it is on...you will enjoy a cinematic experience right in your own bathroom! Who wouldn't want to lie back in the bathtub and enjoy their favorite reality TV show?
Luxurious bathrooms are to be cherished and enjoyed, so think about adding any one or more of these features during your bathroom remodel. You'll not only enjoy it when you are getting ready for work or bed, but you'll find that you'll escape there more than you ever thought you would!
---
This article was written by Steven Moore, the marketing director of the Maryland bathroom remodeling company, Budget Bath.