Towel Warmer Of The Month
Infinity Towel Warmer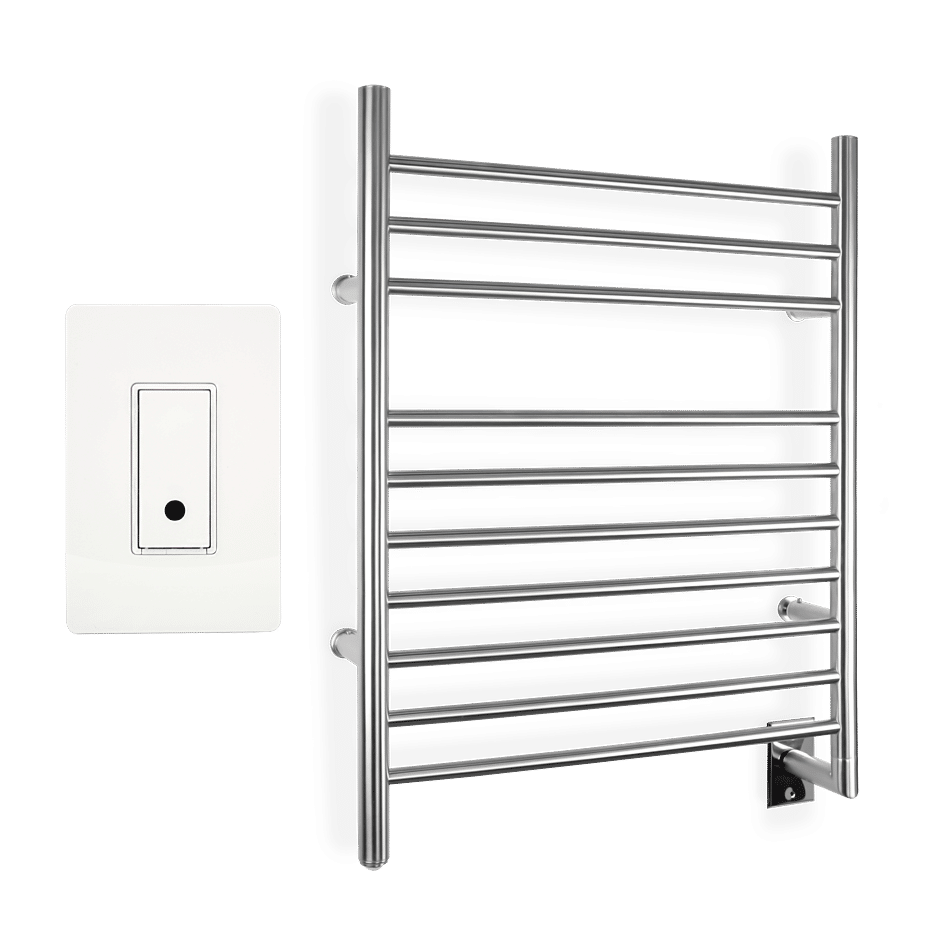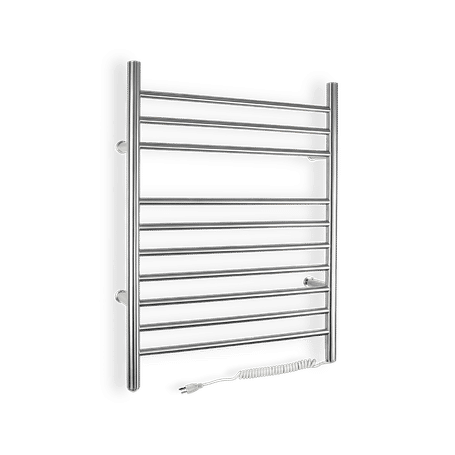 The WarmlyYours Infinity electric towel warmer is manufactured from stainless steel with a beautifully brushed finish and has 10 sleek bars to hang towels or a bathrobe.
It is available in both hardwired and plug-in version.
For more information on the Infinity Towel Warmer please visit the page linked below.
---
Towel warmers can dry your pool towels, bathing suits, delicates such as hand washables (sweaters), and winter clothes. They also warm baby's blankets and clothes. In humid climates, they are perfect to dry towels and keep them dry and fresh.
---
More Options About Towel Warmers
To help you choose which model is best for you, you should consider the following.
---
The Color
Towel warmers come in a great variety of colors; pure white, creme white, grey white, glacier grey, almond, wine red and in addition two metallic finishes are available - aluminum and satin nickel.
White towel warmers are typically half the price. The towel warmers featured on the pictures below are all white and their design is very simple. Chrome or Satin Nickel towel warmers are more elegant, better quality, but priced with a premium (see WarmlyYours and Myson towel warmers).
---
Free-Standing Or Wall-Mounted Towel Warmers
Most free-standing towel warmers have a sleek, classic design to compliment any bathroom interior. They are heated with electric elements, are safe and energy efficient so you can leave them running 24 hours a day. One of their biggest advantages is their portability: they can be used not only in your bathroom but wherever you might need them.
---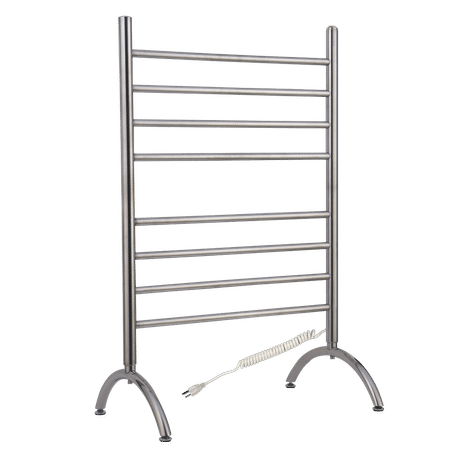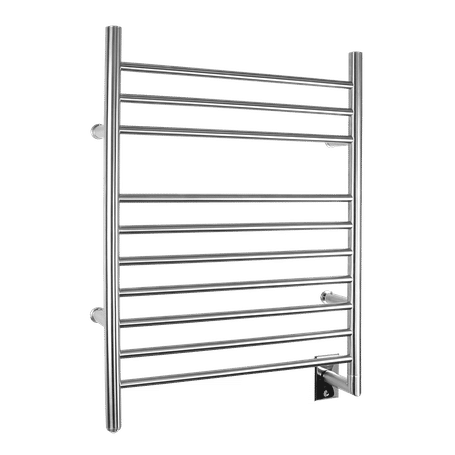 ---
However, wall-mounted towel warmers are typically more elegant than free-standing ones, and will fit much better in your bathroom's design. Wall space in bathrooms is sometimes limited and a free-standing towel warmer might get into your way and eventually become an obstacle.
Wall-mounted towel warmers are available in both vertical and horizontal designs, allowing for more flexible wall positioning than conventional radiators. Because of these features, among many others, they are commonly installed in bathrooms, kitchens, or wherever space comes at a premium.
---
Hardwired Or Plugged-In Towel Warmers
When it comes to plugged-in towel warmers, they have the advantage of flexibility and can be installed where the power outlet is within reach of a cable. The nice thing about hardwired towel warmers is that they are directly wired to your house wiring system and there is no need for you to have any 110 outlets around to connect them. They are cable free, which just looks better. Higher-priced towel warmers are typically wall-mounted and hardwired to fully integrate with your bathroom design. A free-standing, plugged-in towel warmer is unlikely to find its way into a premium, luxury bath.
---
Water Or Oil?
Some towel warmers circulate water, others circulate oil. Oil allows for a higher wattage and less leakage risks. Most water towel warmers' wattage is limited to 100/120 Watts. If you want a fast warm-up time in a limited time, you will want at least 200 Watts (with Oil).
---
Which Size Would You Go For?
There's a great variety of models, but also a great variety of sizes, as illustrated below. And the best part is that towel warmers are very energy efficient and safe to use in any environment. Because of these advantages, many people planning to remodel their bathroom are considering installing a towel warmer.
---
Advantages Of Towel Warmers
1. Dry, fresh, nice and fluffy towels at any time
2. Prevent mildew from wet towels
3. Energy efficient
4. Additional radiator for existing heating system
5. Maintenance free
---
A Quick Tip!
To get the best results, towels should be folded to double thickness, which will help trap the heat in the fiber of the towel. It is also advisable to put more than one towel on the warmer at a time.
---
Electric And Hydronic Towel Warmers & Radiators
Electric towel warmers are selfed-contained and operate independently of the central heating system. They can be used year-around and will warm up in about 30 minutes. They offer the flexibility of temperature settings: low for warming towels and high for room heating. Hydronic towel warmers are connected to the home's hot water supply and a recirculating pump is required to circulate the hot water. They are most often used as the main source of heating for a room (particularly bathrooms or laundry rooms) but only when the main heating system is operating.
find out more...
If your house already has a forced-air system, chances are you should look for an electric towel warmer.