Towel Warmers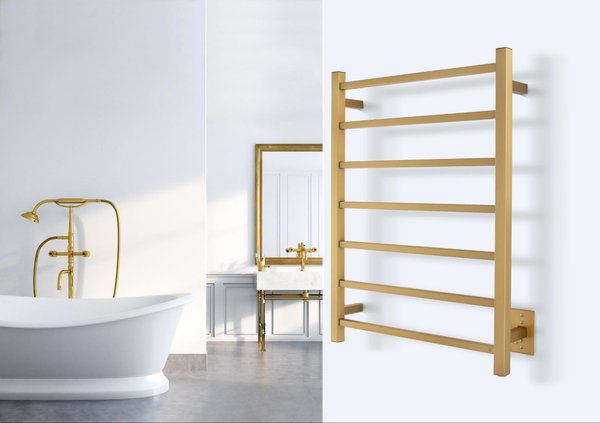 All heated towel warmers can go in Zone 3. We know where the towel rails can go and where they cannot. Most electrical heating racks on WarmlyYours' Towel Warmer product line remain secure from solid particles larger than 1mm and low-velocity water sprays from all sides. Towel warmers are never to be installed in showers, bathtubs, or wet saunas. This product is intended for mud rooms, hotel rooms, and indoor bathrooms, both public and private, on a Ground-Fault Circuit Intercepter circuit (GFCI). Under no circumstances should the towel warmer's brackets be close enough to a water source that the towel warmer heating elements reach the water. Towel warmers do not have this level of durability; on the other hand, towel warmers can be better known as water resistant. The difference is that waterproofed products are impermeable, and water-resistant products are tolerant to minimal water exposure. The actual idyllic location for a heated towel rail is separate from the full spectrum of installation locations themselves. Technically, towel warmers can withstand enough splash to inhabit Zones 1 and 2, shockingly enough. Although, this route won't leave you with suitable accommodations as far as towels are concerned. A towel warmer installed in Zone 3 gives you a much drier towel than one installed above a bath or within a shower area enclosed with glass panels.
Radiant Panels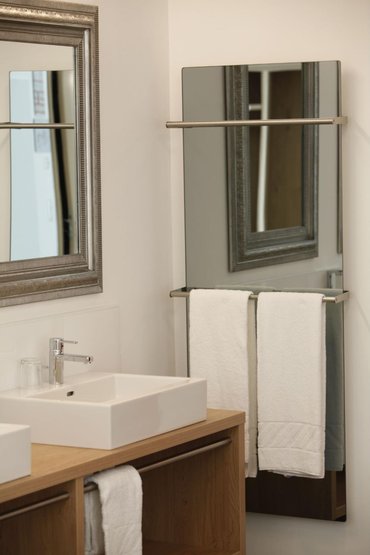 Electric infrared wall heaters are an excellent method to boost heat in any area. Radiant heater panels use infrared heat to transmit warmth directly from the board to the solid items in the space. These wall-mounted radiant panels are functional and a far more attractive and secure alternative to conventional space heaters for adding additional infrared warmth. EMBER Radiant panels go in a variety of spaces. Various models are recommended depending on the setting and nature of the application. Heating panels should not be used underwater, in damp or humid conditions, or for unintended purposes. The device should stay out of the bathtub or swimming pool; PLUS, the manufacturers of radiant panels did not intend for you to dip it in a liquid. Submerging an EMBER panel will likely lead to water damage over time. Avoid mounting the heating panel next to a bathtub, shower, or swimming pool, especially when the installation is outside. Radiant Panels are "Dust tight" IP-rated and shielded from water sprayed from a nozzle. Infrared radiant panels were granted a level 5 liquid protection score and certainly cleared for Zones 1 and above. Ensure no one using the shower or bath fusses about the heating panel, and keep splashing around the device to a minimum.
Mirror Defoggers
Mirror Defoggers can be positioned behind any mirror to keep it clear and steam-free. Just switch on the lights, and part of the mirror will give you a clean reflection. Installation must adhere to National Electric Code (NEC) guidelines regarding bathroom electrical devices. The structure of this device must follow the directions in the manual and the NEC regulations for bathroom electrical fittings. The Mirror Defogger has to be connected to a GFCI-protected circuit and wired by a qualified electrician. Before installing the product, double-check all of the switches in the bathroom are grounded to ensure you eliminate any danger from the location frequently exposed to dampness. Because Mirror Defoggers have a non-applicable IP rating, mirror defoggers must not go within proximity of a shower, sauna, or steam room. While other electrical devices can hold up against water and moisture, an IP score of 00 provides none.