A modern bathroom design is fresh and crisp with lots of clean lines. Usually your design will work best when you incorporate minimalist elements. If any rule is followed, this is probably the most important one. There is no real restriction on the colors that you can use, but often the basic color palette is done in neutrals like whites, grays, and blacks, accompanied by dark woods, all of which is best accented with a brighter color like a red, blue or green.
If your wall can bear the weight of it, a wall mounted sink and toilet will help create the modern look. Not only are these elements fairly modern in design, but they are also much easier to clean around. Sink vessel bowls are a new fun accessory to experiment with and they come in a variety of shapes and materials. They can be placed on a vanity or even mounted into one. One important thing to remember when buying fixtures, like a faucet, is that brushed nickel is a great finish for modern design! Of course, you should look for accessories that have a modern, sleek appearance. It would look "out of place" if you installed a traditional faucet, but the rest of the bathroom was modern in design. Generally, once you pick a finish you should use it throughout the bathroom, i.e. towel racks, hooks, faucets, showerheads, and light fixtures.
One cool element of the modern bathroom is the use of tile! Never before have you had so much freedom of choice. It's best to consider something other than the typical 4x4 sized tiles, but that just means you can choose from so many more styles. Popular trends are the use of subway tiles which are rectangle in shape, mosaics which are usually about ½-1 inch squares, or even use giant sized tile or stone. There really is no limit to your creativity here! Just avoid obvious non-modern tiles like something painted with a country theme.
If you keep these tips in mind you will be off to the right start. Remember, there is still a lot of freedom to designing your own modern bathroom, so have fun and be creative!
What makes this a good example of a modern bathrom design?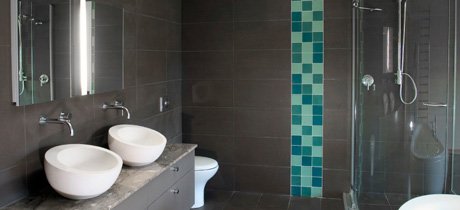 First and foremost, this modern bathroom is a great example because of all the smooth, clean lines. Grey tile is used almost exclusively, and the design incorporates the typical 4x4 tiles in a colorful accent piece. The vanity is wall mounted with two vessel sinks placed on top. The accessories are a chrome finish which also works well. Overall, this is a classic example of a modern bathroom design.
What makes this a good modern bathroom?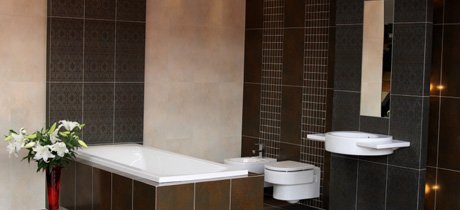 This is another excellent example of modern bathroom design. It presents many smooth lines to follow, incorporation of minimalistic elegance, and there is both a wall mounted sink and toilet. This bathroom design also has great color choices. All of the tile is grey or brown and they are all rectangular, but vary in size. If you look closely at the grey tile, you'll note an intricate pattern which adds an element of interest to your simple modern bathroom. In the end this is a spectacular example of what you can do within the modern design.
Good luck!