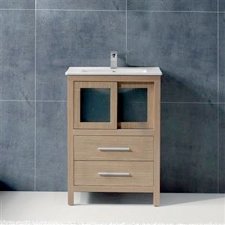 Bathroom Vanities are a beautiful way to add function, storage and style to every type of bathroom. From the modern to the vintage there is a bathroom vanity that is perfectly designed to match your look, feel and style.
The bathroom vanity market is full of many different manufactures ranging from the well-known to the up and coming and this diversity really allows the customer to have a lot of options when searching for a bathroom vanity.
This particular review is on one of the promising new brands in the kitchen and bath market called Vigo Industries and the review is of their Single Bathroom Vanity from their Alessandro line.

The Alessandro Vanity from Vigo is a beautiful product that is created for a modern home retreat. It is crafted in a white oak that allows the vanity to match with many different color schemes and create a truly unique look no matter what is accompanying it. This particular vanity is designed to be installed in a single sink bathroom such as a guest bathroom and is 24" in length. It also features a sliding top cabinet for storing larger items and two pull out lower drawers for everything else.
The cabinet itself is made of a solid engineered wood and is designed to last for years while maintaining its beauty. It also includes a solid brass drain assembly to allow easy connection to the home water line and is a generally simple installation as it stands upright and can be secured to the back wall.
This item can be purchased with or without an accompanying mirror that is designed in the same style and finish as the vanity.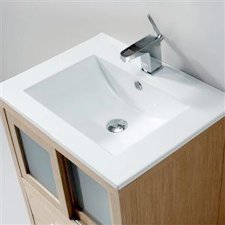 The only real drawbacks you will see to this vanity is that it does not come with a faucet and that it is in the higher price range. Not having a faucet is both good and bad, as it allows you to customize it however you would like, but it makes it's not as easy as having a complete set. However, if you are crafting a new beautiful and modern bathroom the Vigo Alessandro Single Bathroom Vanity is a great bet.
Pro: Sturdy Design, Brass Drain, Lots of Storage
Cons: No Faucet, Limited Color Options