How to avoid the shadow trap
When planning the lighting for your bathroom, be careful not to fall in to the shadow trap. Recessed lighting fixtures are very popular these days and are usually recommended by the contractors. If you are relying on them as your sole source of illumination at your vanity you will fall in to the shadow trap.
The Shadow Trap is when you look into your mirror you will not be able to see yourself very well. An example of what you will look like; remember when you were a child in the dark and would put a flashlight under your chin to scare your friends, that is what you will look like with recessed flood light over your head, especially when using halogen recessed lighting. This is caused because of the fact that flood lights are very focused lighting and halogen flood lights even more so, that will cause shadowing.
Now that you know about the shadow trap, what can you do about it?
It is fine to use recessed floodlights in you bathroom if you want, as general room lighting, when it comes to your vanity you must use another type of light in addition to the recessed to combat the shadows.
Use a more soft focus or diffused light fixture.
Ideally the light fixtures should be mounted at eye level or just above, on either side of the mirror, shining at your face. However that may not always be possible. Mounting a diffused light fixture on the wall over the mirror will combat the sharp focus of halogen floodlight shining down on your face as well.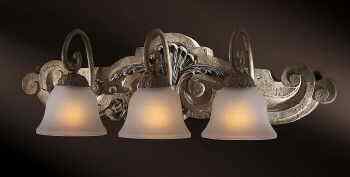 If it's not possible to mount fixtures on the wall, only then, I suggest not using recessed lighting at all; use only decorative ceiling mounted diffused fixtures, (flush, semi flush or cove). Remembering this is not the best type of lighting for your vanity but its much better than recessed lighting alone.
In contradiction, if you are sold on only using recessed lighting in your bathroom vanity area there is only one way to make it livable and that is by placement. The recessed fixtures must be placed very close to the mirror, center them above the faucet. Centering them over the counter will still be causing shadows.
Another good tip is to independently switch the different types of lighting fixtures this will be helpful to set the mood for the different functions in your bathroom. I like a dimmer switch at the vanity area to set the light levels for daytime-nighttime makeup applications.
There are many styles of bathroom lighting fixtures that will fit with any décor. You can order fine lighting fixtures at our web site, Lamps-Lighting.com. Look for more tips and updates, from Lamps-Lighting.com in up coming publications.
Article written by Kathi McNally, from Lamps-Lighting.com.