Turn cold bathroom tile luxuriously warm
Five-star luxury is all about how you feel – a warm inviting bathroom is a great place to start
Stepping into a warm bathroom first thing in the morning is a great way to start your day. The warmth underfoot really makes a difference - especially if you have tile or stone flooring.
The process of achieving this creature comfort is not complicated. Electric floor warming systems from WarmlyYours easily install in cement under ceramic tiles and stone floors by your local tile contractor or bathroom remodeler.
Learn more: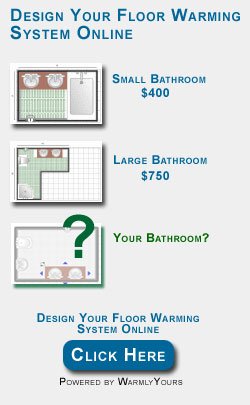 Get a quick online estimate from WarmlyYours
Design your bathroom online for an instant quote and product recommendation.
Fax your bathroom plan to WarmlyYours at (800) 408.1100 or email your electronic plan to [email protected] for a free quote.
Visit Warmlyyours to learn more.
---
What is radiant heat?
Use of radiant heat has grown tremendously in recent years. Both hydronic (whole house installations) and electric (kitchen and bath installations) radiant floor heating systems provide years of maintenance-free comfort and soothing warmth. Electric radiant heat for bathrooms can be used as a primary source of heating, or simply to take the chill off some of the cooler flooring products people like, such as tile. For more information about hydronic or electric radiant heat, click here.